Ok
,
ok
, guilty as charged. I didn't update my blog yesterday, in the end. After I ended up at work, I directed myself to my usual bookshop and after more than a year of pondering, I finally got myself my "Lords of the Rings" copy, hardcover and illustrated by Alan Lee. Then, I moved downtown for a happy hour with Francesca, a friend of mine with whom recently I got re-acquainted with during the Swedish days and had quite an interesting discussion about this and that, only to get back home at 9 something and spend few hours talking with Susanne... so, as you see, how could I?
Well, honestly, I still could have done it once Susanne went to bed, but the point is, I tried, and I realized I didn't know where to start. It has been a long, intense week full of things, experiences and feelings and summarizing all of this in a blog entry is in no way easy, if possible at all. So, I've decided I will just try to put down a very short day by day log now and then, in another entry, some impressions about the whole travel rather than a full report.
Btw: prepare to finally... SEE Susanne (and remember you can often click on a picture to get a larger version).
Monday
So, where to start where to start, if not by the beginning? I met Susanne at the
airport of Orly
where we landed at a few minutes one from the other, and already the jumping way she came towards me made me feel good. Arriving to Paris from Orly was relatively easy, even if the ticket I ad taken didn't open the gates out of the
Gare
du
Nord
for some unknown reason. Anyway, solved the problem, we reached the apartment where we would had stayed.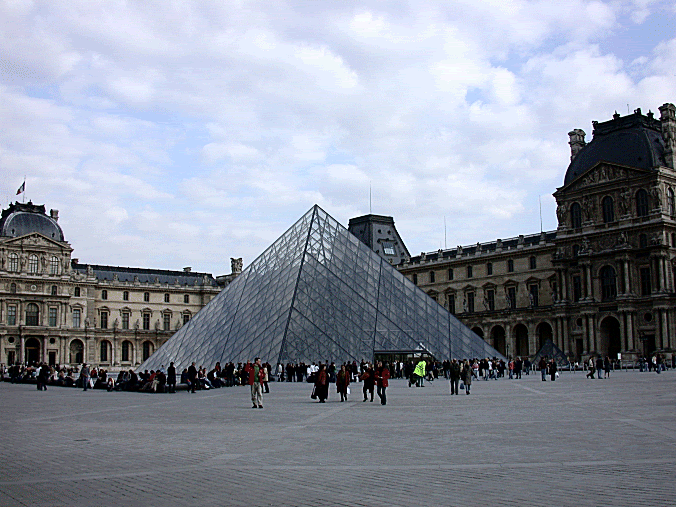 Calling it an apartment, or even a studio, would be greatly exaggerating what that was, as once the convertible bed was open there was almost no space left to reach the kitchenette or the (minuscule) bathroom, and barely enough space around the minimalistic table to move the chairs and sit down. Yet, I loved the place at first sight (and appreciated the hyper organized owner who had prepared a full dossier about the area and transports, even if I have to admit towards the end of his lengthy description I only wished he would be moving away as fast as possible).
After having settled down, the first day was spent in a general walk around the city (especially liked the little gardens at the base of the
Pont
Neuf
) and metro-hopping around, included a first pass in the courtyard of the
Louvre
and a walk along the
Tuileries
, with no real goal and having to give up the visit of
Notre

Dame de Paris
due the immense line there (I suppose, in order to follow the service of Easter's
monday
).
Tuesday
Also part of
tuesday morning
, as I discovered the Louvre was closed and the line in front of the
Musee
d'Orsay
was unimaginable, was spent just walking around. So, we headed to the
Arc

de

Triomphe
and
Champs

Elysees
, got to a
Fnac
where I got the Louvre tickets and, given we were there, the one for the other museum to avoid the queue (why people get in a line if they can
pre
-order the tickets and skip it is a mystery to me) and later on we joined for lunch some
italian
friends of mine who coincidentally were there as well, included Francesco from Pisa, a mythical ELSA character of when I had just joined the association and who I had not seen for over 5 years. I found little changed, with the exception that now he's married (and was there with his wife). Giuseppe was his usual self, as well, with his long time girlfriend. It was a chaotic as usual group of 9
italians
and a German, and I suspect that both amused and
strengthened
the prejudices about
italians
of my
german
counterpart...
Parting with my friends, that I hoped I would had seen again in the following days, hope that never came true, we headed for
Montmatre
and the
Sacre

Coeur

basilica
(and the view enjoyed from there) on top of it, then it was time for
Montparnasse
(I had this fancy idea that the two artists' neighborhood
woul
d had
been in some way similar, and boy if I was wrong) and some more hopping along the river, until the
Palais

Royal
Gardens. And it was night and it was morning.
Wednesday
Wednesdat was the turn of the Louvre, 9 hours of it, actually, 9 hours of discoveries of things I had already seen and forgotten, of frustration for a given section I failed to see the first time I visited museum was closed this time, of repulsion for the mass of people noisily amassed in front of the "
Monna

Lisa
" ignoring the masterworks that surrounds that (especially teh Tizianos) and even the way more meaningful "
Virgin of the Rock
" that being exposed in the long hallway from which you reach the
Monna
Lisa among hundreds of other masterpieces is almost ignored.
At 6.30 pm, it was time to leave and head towards Virginie's house in the Parisian "
banlieue
" where we were expected for dinner. The time to get a hold of a couple of wine bottles, the travel... and once again we couldn't get out of the metro station for a ticket problem, but while the first time we had found someone opening us a gate, this time the problem was solved by simply jumping over the turning bars (to be noted, I *did* had paid for the tickets). Anyway, long talks, dinner based on
crepes
, a long metro ride back home and it was night, and it was morning.
Thursday
We decided to gamble with weather and go to
Versailles
. We weren't too lucky really, as the day which had started slightly overcast but yet sunny turned along the way in a grey cloudy one. and yet, I loved that. Again skipping the main queue by buying a "combined" ticket, we spent the most part of the day by going methodically around the gardens (but without reaching the
Grand Trianon
and the
Petite Trianon
) and the apartments of the King, Queen and Dauphin, where I had the bad surprise of finding the Gallery of Battles closed just as well as half of the
Gallery of Mirrors
. Eventually, after having rested a few moments (actually apparently it was more than that, as I fell asleep) at the Basin of Neptune, we headed back home to much deserved rest. And it was night, an it was morning.
Friday
As already the gloomy feelings of an impending end of the vacation was starting to fall on us, it was finally the day of the
Musee
d'Orsay
, much more manageable and yet no less wonder filled than the Louvre. 6 hours later, after having met once again Virginie and Pascal for a drink (the Tolkien reading was turned down for the project of the "all romantic night" that was not meant to be) we decided to head towards the
Eiffel Tower
hoping to be able to reach it while sunset was still going on. We didn't, and even if we had, it would had made no difference as it took more than one hour and a half, after the most chaotic and ill managed approach I have ever seen, to get on the top of the tower where on the exposed part, a strong and chilly wind welcomed us. Have to admit the sight was quite something tho.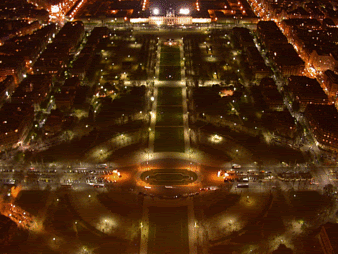 It took another hour and something to come down tho, and so it was very late when we headed to the places around the Saint Michele fountain to find a restaurant still open and even later when we reached the metro to get back home. Too late, indeed, as it was already closed (much to Susanne's dismay, who probably thought that Paris, at least in the week-end, would have had a 24 hours metro service as Berlin does) and so the day was closed with a good half a hour march. And it was night (it had been since quite a while actually), and it was morning.
Saturday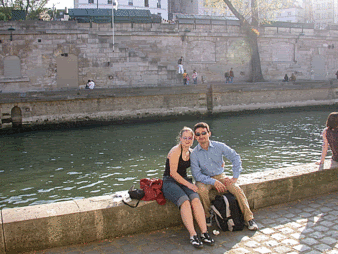 Exhausted by the day before, it was not until 4 pm that we emerged from hour house and for the first time in days me and Susanne parted, she directed to
Place

Vendome
in search for a french ball-dress, myself to Port-Maillot looking for information for the bus which would had carried me to the
Airport of

Beauvais
. One and a hour later, turned out that both our expeditions had been unfruitful, but it was so strange, after having been together without parting more than 5 minutes for over 120 hours, to be alone again. Anyway, once we reunited again, we headed towards la
Sainte

Chapelle
, finding it closed, and then to
Notre
Dame where we finally managed to enter (and that didn't impress so much Susanne). After a brief stop to the side of the Seine river (where a jazz brass band was playing in a very nice way), we made a walk (for the first time ever, I followed a guide in a suggested itinerary) around
Le

Marais
and
Place de

Vosges
until it was time to head back, where a mixed
japanese
sushi -
indian
rice "A
emporater
" dinner closed the day. And it was night and it was morning again.
Sunday
A very sad morning, actually. After having prepared our bags and given the apartment back to the owner (who let us keep our baggage at his place just next door, giving us the opportunity of going around a few more hours), we headed again to Saint Michele, originally to get a couple of sandwiches at our favourite "
panini
" stand for later during the day but then we headed to "
Shakespeare and C.
", an incredible bookshop that you can see in the opening scenes of one of my favourite movies, "
Before Sunset
". being impossible to visit the Sainte
Chappelle
given the
line and the lack of time, having got the
panini
for later and having just generally spent whatever time was left together, Susanne and me finally recovered our bags and headed to the Gare
du
Nord
again, once again having a hard time (the French are terrible when it comes at signs) to understand how to have Susanne reaching her airport and, finally, parting ways.
Quite sadly, I then headed towards my bus station and of course, after a week of relatively good weather, exactly in the moment I was without any cover near the Congress Centre of Paris and in the middle of the bus station and immense tropical-like storm erupted with its lightnings and thunders (for the chronicles, it was so bad that Susanne had to take off way behind schedule) . Wet and pretty demoralized I finally boarded the bus which one hour and a half later delivered me to my airport (the most poor and no-frill I ever seen, with the boarding area consisting of a wooden platform surmounted by a simple tent) and, later than expected, I arrived to
Ciampino
, form there home here, at 3, finally in my bed. The travel was over.