Another week end is past, another monday is here. The week-end was nice, even if it started in a not so encouraging way. Arrived at Frankfurt Hahn with a little delay (as usual), I ran out of the terminal to catch, totally out of breath, the bus to Mainz which, late itself, was already moving. I arrived in Mainz under the rain... and was alone in front of the station. True, I had forgot to ring as I approached the city, but I had sent a message from the terminal saying I would had arrived in a hour, which was precisely what happened. So I dropped another message and waited with only my gloomy thoughts to keep me company for a good half a hour (and when my thoughts are gloomy it means they are really bad ones) until Susanne arrived running, and things got quite better.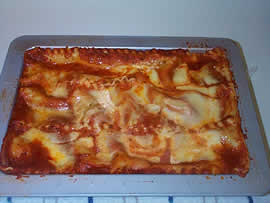 The week-end itself was eventless, partly due the rain that was a constant during saturday and sunday, partly due the two weeks that had passed since last meeting and the internet breakdown that had left us without communication for ten days leaving us with quite some things to talk about. The only time we got out was for a bit of grocery shopping on saturday and the evening saw my pretty successful cheese lasagna (lasagna with tomato sauce, mozzarella, ricotta, parmigiano) together with some barely adequate roasted potatoes (I definitely thought those would had been easy, and I was wrong), accompanied by a Nero d'Avola (a sicilian wine) which proved to be a pretty bad one and basically knocked me out with only three glasses... beware bad wine!
All along, talk, talks, Susanne studying and me reading and, finally, on sunday morning the return of the signal of her internet which hopefully will make it easier for us in the coming days. Projects for new year's eve, projects for march and the thought at the back of my mind that we are too much by ourselves and we should go out with other people and that at the same time we have too little time to be by ourselves.
In the meanwhile, I started and finished Pomepii by Robert Harris and appreciated it quite a bit, only afterwards realizing he's the same author of Fatherland, I read a good fourth of "Hammer of Eden" by Ken Follet (discovering he's one of Susanne's favourite authors just as one of mine), I had a nice talk with Virginie. Wonder what will this week bring.
Oh, and this is my 150th post, even if actually I got to this number splitting some of the old posts when I added labels... is it blog-cheating?