You know when you are tired, really tired, so extremely exhausted that your only wish, your ultimate goal, the very meaning of life becomes closing your eyes and sleeping... and your body refuses to? That's precisely what happened to me last night.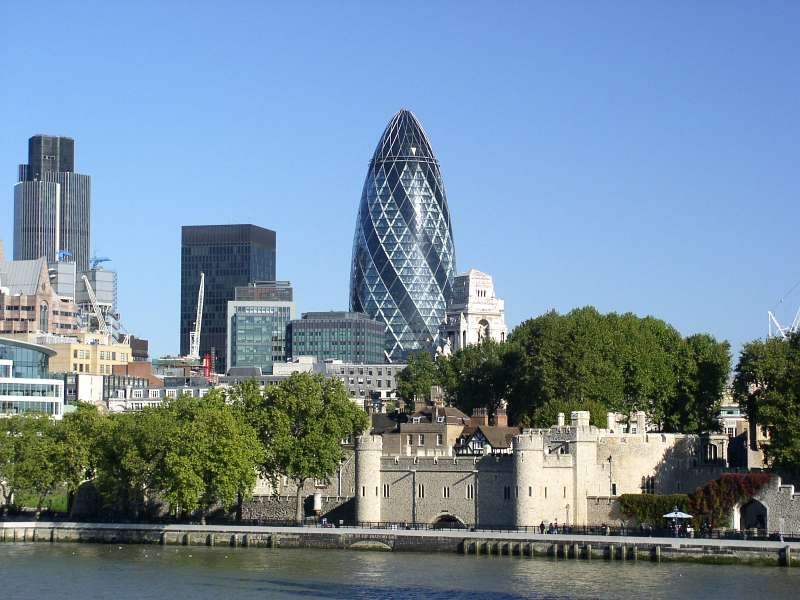 But let's go in order and move back on Friday. Location: London. As the original plan of going in good company first to the Tower of London and then to the London Eye had been wrecked by forces beyond my control, I found myself wandering aimlessly around the city. I first got to the metro at Russel Square and reached the Tower, wishing to at least see it if not visiting it alone, then walked over the Tower Bridge, turned back to see the very odd contrast of William the Conqueror's tower and the "cucumber skyscraper" behind it, and from there, proceeding along the Thames, I was surprised to find a whole philharmonic orchestra on an improvised stage playing near the HMS Belfast, next to what I presumed (and presume still, haven't checked out yet) being the ultra modern London City Hall. I stayed there for a while, listening until the end of the concert, than I kept on moving, walking towards the closest underground stop, while thinking about what to do next.
Suddenly, I found myself in front of
some sort of museum about London during the WWII
. Checking my faithful
Lonely Planet
guide I discovered that there was a much more serious museum about the subject, but way too far away to reach, so I gave up the idea. Walking randomly for a while I happened to come across a HUGE queue in front of what appeared to be a third rate horror tunnel and that I discovered to be the (apparently) renown
London Dungeon
... not that I ever thought about entering.
Finally, I decided I had enough of culture and exhibitions and decided that it was time to go to the exact opposite direction, so
Harrods
it was. The
Mecca
of the western
consumistic
lyfestyle
(I do not know who labeled the store this way, but surely it's an appropriate definition, especially if you have in mind the human waves going around the
Kaaba
) is an immense maze of shops over 5 or 6 levels and I have to admit it made me quickly nauseous with the huge amount of people apparently wandering around without a goal, just merchandise-drunk. Before surrendering to the very same feeling, I headed to the food hall and got some English tea for the family (everyone in my family drinks tea excepts me) and a little something for Susanne and almost ran out from a side exit, finding out that Harrods had two new "
Grande
Punto"s
(obviously with the driver's seat to the right) on display.
A bit of wandering around among the shops of South
Kensington
and then I thought to get to the
internet
and check my mail. I headed to a
internet
cafe highlighted by my faithful guide, that this time betrayed me as, under a rain becoming heavier by the minute, I found out that the place, near Victoria station, if it ever was there in 2004 (
guide's
publishing year) had been replaced by a travel agency. It was not all bad tho, as on the way back to the underground I stopped to buy something to eat and discovered something called "
Cornish Traditional Beef pastry
" and found it delicious, definitely the best thing I did eat in London. To be noted that it came in 3 sizes, little, medium and large and while I was more than satisfied with a little one, i kept wondering who could ever get and finish a three times larger piece.
Then, I suddenly realized I needed something to read on my way back to Rome the day after and that realization was soon followed by the thought that in days of going around in the city I hadn't seen a single bookshop. A quick look at my guide, another underground excursion and there I was in Soho where I failed, in one of the
apparently largest bookshops of London
, to get the 5th installment of the Chronicles of
Camulod
(I found only a way too expensive hardcover edition... anyway, I just bought it today at lunch break) and out of desperation, in an used books shop, I picked something almost at random. Turned out to be quite good stuff, but more about it in the next "Books" entry. Finally, on the way back to the hostel, I accidentally (but how else you can find something, if you are going around without a real plan?) found a
internet
cafe with a rate of 1 pound for 2 hours against the usual 20 minutes. There I wrote saturday's entry and I was astonishing at seeing a clochard, ragged clothes and everything, entering and sitting at a computer as if it was the most normal thing ever. London.
The night was, shall we say, eventful, between assisting ill friends, witnessing bags being prepared and getting new perspectives, and maybe closures. I also happened to discover that a friend of mine had surprisingly failed to be elected as President of ELSA International and that the Check Republic's candidature of Prague had much less surprisingly beaten the ill-prepared Italian one of
Catania
as
ICM
host for fall 2007.
The night never ended. A visit to King's Cross train station at 5.30 was followed, once back at the hostel, by a talk I would had gladly avoided, both for the hour and the subject, and when I finally, at 7.00 am, got to my newly acquired (but with no changed beddings since its last owner) bed, I found out that the Portuguese snoring monster had already started his symphony and I gave up every hope for sleep. Then it was breakfast and physical exhaustion started to make everything around me blurred, so much that I do not recall who I managed to say goodbye to and who I forgot, and it was time to catch a bus to the airport.
But even there, disaster was only nearly avoided. In fact, I joined a fellow Italian who had to leave several hours before me and we decided to take the coach to the airport together. At Hyde Park, tho, a very kind underground guardian sent us to a very wrong place for catching the coach, in the meanwhile having us walking around a good kilometers with our heavy bags. Out of desperation, we got a cab and ran to Victoria Station, finally catching the last available (for my friend, I had hours ahead of me before taking off, but since I had been the one suggesting sharing the couch, I felt responsible and I shared the stress) coach. At that point, I was literally seeing stars out of a deadly mix of lack of sleep (all
thro
the week, but particularly in the last 40 hours at that point) and physical efforts (marches around the city and bags carrying, mine and others').
The ordeal was not over tho. As I met another friend at the airport and discovered that we would had shared the flight, we were also informed that our flight would had been delayed. Eventually (and slightly refreshed by some Sushi, the first I had in a long time), we took off almost a hour late. At arrival, my dad picked us up and delivered me home by eleven pm. Susanne was online and quite evidently happy to see me back, I might add, which somehow refreshed me way more than the food, so much that for almost a hour, as we exchanged a few online words until midnight, I didn't feel as fainting or, more appropriately, as a 40 tons armoured tank had just rolled over me.
And that bring us back to the beginning: You know when you are tired, really tired, so extremely exhausted that your only wish, your ultimate goal, the very meaning of life becomes closing your eyes and sleeping... and your body refuses to? That's precisely what happened to me last night.
So, roughly 70 hours since I last closed my eyes, here I am, obviously unable to catch up with work and yet determined to go to gym in 2 hours after 2 weeks of absence. If I shall survive, it's yet to be seen.